Centennial is The New Up & Coming City for Rentals in Colorado
If you felt at ease with no worries about any issues with your Centennial rental home, wouldn't that be fantastic?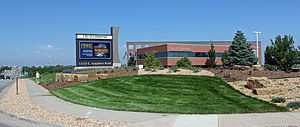 Colorado City and County Codes? No Worries We Make Sure Violations Are A Thing Of The Past.
We make sure your Centennial rental home tenants are maintaining your home properly at all times.
Your investment in Colorado Real Estate is as important to you as it is to us and you will find that our professional quality customer service in Aurora property management is second to none.
Our Centennial Property Management clients hire us because:
We would love to assess your rental home here in Centennial
and let you know what the true value is and then manage your property and grow your rental home investment in Colorado.
The City of Centennial was created in February of 2001, it was made up of areas in unincorporated Arapahoe County, including Castlewood and Southglenn. The citizens in these areas had voted to incorporate the city, in September of 2000, choosing Centennial as the official name.
The name reflects Colorado's admission to the Union as the 38th state in 1876, the centennial year of the United States Declaration of Independence. The state of Colorado is nicknamed the "Centennial State".
The city is considered a relatively new city, because of this, many people in the Denver-Aurora metropolitan area do not recognize the area by the name "Centennial". Thus, mailing addresses in which "Aurora", "Englewood" or "Littleton" appear may actually be in Centennial. This causes some confusion, especially since Centennial and Englewood do not even share a boundary, while some portions of Centennial are surrounded by Aurora and vice versa.
Centennial covers 27.9 square miles of Colorado. The city is roughly divided in half by Interstate 25, with most of its business parks and entertainment areas lying west of the highway.
Centennial has many hills, gullies and ravines, and its open spaces are usually accompanied by recreational trails, including the Dry Creek Dam, DeKovend Park, and the Highline Canal. It is home to many public sport parks, playgrounds, and 2 water parks. Most native wildlife appears in the Centennial area. Centennial has also seen a boost in coyote populations in recent years, leading to resident education on how to deter coyotes from eating family pets.
The Centennial Airport, formerly named Arapahoe County Airport, lies along Centennial, but is located in unincorporated Arapahoe County. Ironically, the airport is not named after the city, as it predates the city by over 30 years.
Most of Centennial is within the territory of the Cherry Creek Public Schools. Centennial is also served by a few private schools., including Cherry Creek Academy.
Centennial is ranked as the 15th safest city in the country. What a great place to live in Centennial or to own a rental property.
Legacy Properties-PM can connect you with the right Real Estate agent if you're looking for a investment property in the great City of Centennial, or if you already have one, we can help you manage it.
Be sure to read my Online Magazine On Real Estate Investing and Property Management: PropertyManagement.Today