The Ease of Obtaining a Mortgage
Now is a great time to consider buying a second or third home in Denver, Aurora and throughout Colorado and using it to increase your financial legacy.
Coming into the Summer of 2015, mortgages are becoming more simple to obtain. Some recent rule changes and comments by Mel Watt , director of the Federal Housing Finance Agency:
"the government and mortgage bankers are at least discussing moving in the proper direction and making it easier for borrowers to get a loan."
In July 2014, The Federal Reserve reported that mortgage lenders are easing up on their requirements such credit score requirements and debt ratio requirements are being softened up this Summer.
This allows for lenders to accept mortgage borrowers with lower credit scores and higher debts.
In the past, lenders have does this to try to compensate when volume goes down by easing these credit restrictions and, in turn, allowing for more loans.
There was evidence that this occurred in 2014, and it is likely what is going to take place in the Summer of 2015, so now is a great time to contact your realtor and invest in a colorado rental home property.
Not only is it easier to obtain financing for your new rental home, Home Values themselves continue to rise.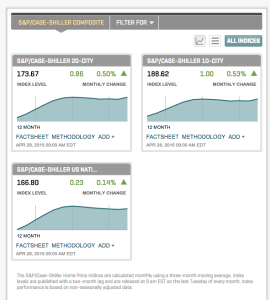 The real estate housing market tends to vary from state to state or even city to city when involving national pricing trends. While that generally is the rule of thumb, national averages like the S&P/Case-Shiller Home Price Index typically do act as a general gauge of where things are headed.
In Colorado, all signs indicate that home values are moving upward and will continue to do so.
Another recent Case-Shiller report provided data that prices rose about 5-6% within the past year, further proving that now is a great time to literally "make your move". There are several Colorado analysts and economists who predict another 5-6% rise in home prices during the upcoming Summer of 2015.
Ready to make your move? Contact Legacy Properties-PM and we will connect you with the best real estate agents in Denver, and then work with you to manage your new Colorado Home Rental Property and grow your Legacy.
As home values rise in Colorado, and mortgages are easier to obtain, now is a great time to buy a home and have it rented out and managed by us. Wherever your rental home is in Colorado: Denver, Aurora, Parker, Highlands Ranch, Littleton, and beyond just to name a few. Give us, Legacy Properties-PM a call today @ 720.989.1996 or contact us to set up a consultation.